RSE Network Support Meeting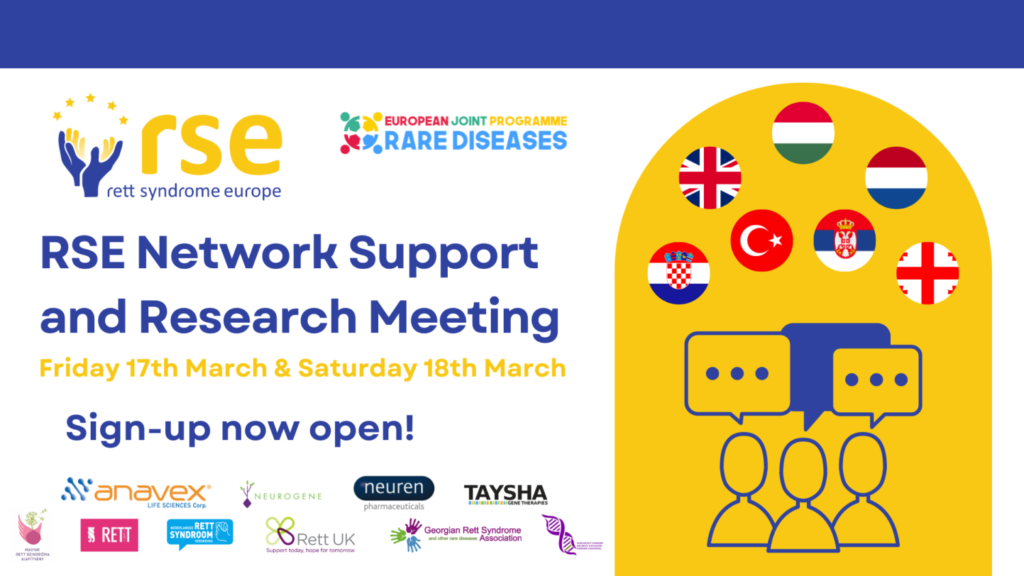 Rett syndrome is a rare, genetic, neurological disorder affecting mainly females (1:10,000) and very few males. It is present from conception. After a period of 'near normal' development, the child experiences a regression in key skills, usually mobility, speech and hand use between the ages of one and two years. The child may appear very withdrawn during this stage and this often leads to a misdiagnosis of being on the autistic spectrum. Multiple comorbidities appear post regression including epilepsy, breathing disruption, scoliosis, gut and bowel problems. Whilst the disorder is genetic, in the majority of cases it is not inherited. Rett syndrome is usually caused by a fault on a gene called MECP2 which is found on the X chromosome. People with Rett syndrome have profound and multiple physical and learning disabilities. They are totally reliant on others for support throughout their lives, yet they are radiating love and enjoying their life to the fullest.
We are delighted that registration is now open for the Rett Syndrome Europe Network Support and Research Event. Many thanks to our funders The European Joint Programme for Rare Diseases Network Support Scheme and our sponsors Anavex, Taysha, Neurogene and Neuren for making this possible.
The main meeting is in Budapest, Hungary with satellite meetings in the UK, Netherlands, Serbia, Georgia, Croatia and Turkey. The 'in person' satellite meetings are by invitation only but anyone can register to view the presentations which are being shown on 17/18 March 2023. They will also be available post event to view at a time of your choosing.
We have a limited number of places for people to attend the satellite meeting at The Angela Ruskin University, Cambridge in person. It is free including lunch both days and dinner on the Friday evening. If you are interested in this opportunity to meet and network with several experienced Rett researchers and clinicians, please email bjenner@rettsyndrome.eu
Details
Start:

March 17

End:

March 18

Event Categories:

Event Tags:

Website:
Organiser
Rett UK

Phone:

01582 798 911

Email:

keren.decoito@rettuk.org