Understanding Rare Disease: Communicating with Patients
8th June 2022 @ 2:00 pm

-

3:30 pm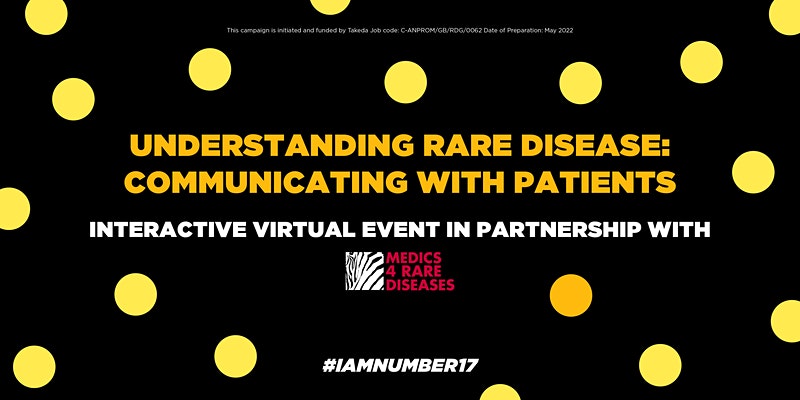 Sign up to learn about the role of communication in rare disease from those affected directly, in an interactive FREE virtual event!
About this event
The event will kick off with a session from our guest speaker, who will explore the value of effective and sensitive communication skills when it comes to handling complex conditions, such as rare disease. Attendees will then have the chance to speak directly with some of the I am Number 17 campaign changemakers and hear first-hand about how their diagnostic odysseys came to an end, through perseverance and working together with the help of their HCP/Consultants.
What will you get from attending this event?
• Gain experience from communicating directly with those affected by rare disease
• Improve your understanding of rare disease and how to react when faced with a potential rare disease
• Develop your communication skills (notability how to share sensitive information and break bad news)
• Gain a certificate of attendance to exhibit your enhanced learning
We hope that learning from real-life examples will provide you with tangible learnings to take along your medical careers and ultimately equip you to Find the 1 in 17 in the future…
All medical students are welcome to attend the event!
Please note this event may be beneficial for students preparing for upcoming OSCE examinations.
We look forward to seeing you there and learning together!
This event is initiated and funded by Takeda UK, run together with Medics4RareDisease.
Organisers
Medics 4 Rare Diseases
Takeda