At the end of April, M4RD appointed Jo McPherson as its new Operations & Finance Manager. In fact 2021 has been an exciting year for M4RD as we've grown our team from one to three, in as many months!
Jo joined Lucy McKay, M4RD's CEO, to take on the day-to-day operations of the charity including communications, activities and finance.
Three months later, Jo lets us know what she's been up to as she makes the role her own…
Before M4RD
Having worked for the International Gaucher Alliance for over 9 years, I already had some experience of working in the rare disease world. My role with the IGA was both international and disease-specific. My role with M4RD is predominately UK-focussed and of course disease agnostic. Before joining M4RD as a permanent member of the team, I had worked 'virtually' with Lucy on an ad-hoc basis since 2018. As a Virtual Assistant I provided support for M4RD's social media campaigns, events and the Student Voice Prize. So I already had a fairly good idea of what I was getting myself into! But I was so excited to take on this new role and make it my own! And with Lucy as my mentor, leading the way, I couldn't wait to get stuck in.
Onboarding and induction
From Day One I felt completely 'invested in'. Lucy had prepared a comprehensive onboarding programme and a work plan for my first month. Although I was familiar with parts of the role, and with the history of M4RD, it was going to be a huge step up from VA to Operations & Finance Manager. It was really worthwhile spending time together looking at strategy, M4RD's work programme, policies and my own personal development.
It was also a great opportunity to review our productivity tools, introducing Monday.com to help streamline our internal task management. We may both have become slightly Monday Obsessed!
I attended a lot of meetings! We both felt it was really important for me to meet as many stakeholders as possible, including patient advocacy groups and sponsors. I would be working closely with many of them moving forwards. Some of them I already knew, but it was important for them to see me in my new 'outward facing' role. It was really good to finally put some faces to names too.
I've also attended some really useful conferences: Findacure's #DrugRepo21 online conference and Breaking Down Barriers 'Diverse Discoveries and Inclusive Insights'.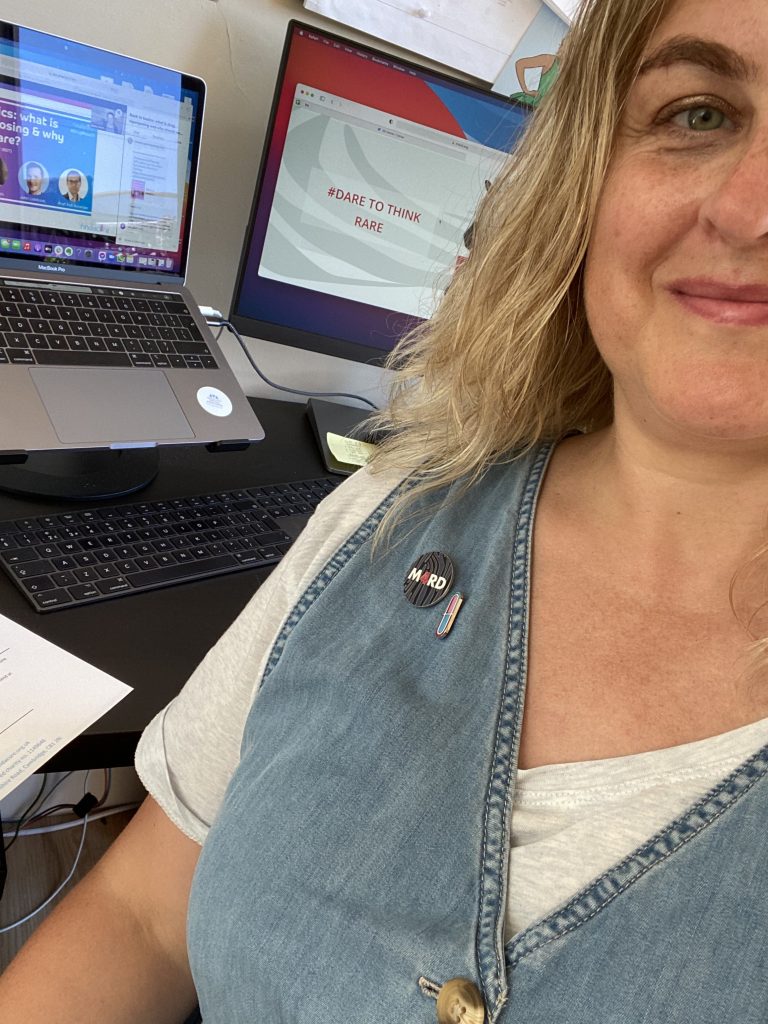 The role of Operations & Finance Manager
I was no longer working behind the scenes, that was for sure!
Having introduced myself either in person (virtually) or by email to M4RD's collaborators and stakeholders, it was time to get stuck in…
The role is pretty dynamic in that it will grow with me and with the ever-changing priorities of the charity. Regular activities include growing organic traffic to our website by providing regular post content. And of course by keeping our resources and events directories updated. I'm also responsible for the newsletters that hit your inboxes!
Efficient internal operations are key for a small charity. Defining standard operating procedures for finance and governance may sound boring, but are essential to our smooth running.
Patient engagement and disease awareness
I'm really pleased to have added a new page to our website for Patient Advocacy Groups, showcasing the many ways in which we work with PAGs to share the real patient experience. Mystery Monday is up and running again with some fabulous assets being shared over the last couple of months. The process is even easier now to get involved; complete a simple form and then let us do the rest. Easy!
I've also created a space on our site to find downloadable content and posters created by M4RD over the years.
More to come…
It feels like I've only skimmed the surface here… and I'm wondering what I've missed? And there's so much more to come…
Advocating and promoting M4RD's mission remains my focal point and outreach to medical schools is a huge priority as we try to get Rare Disease 101 in front of as many medical students as possible! And it won't be long before we're ready to launch and promote this years' Student Voice Prize alongside our good friends at Findacure.
I'm also really looking forward to developing our Ambassador Programme following our successful pilot.
And we've recently appointed another team member – Emma Huskinson – who I'm looking forward to working with to improve our medical communications.
Right… that's more than enough from me! I'm pretty sure I just heard another Monday notification ping from Lucy 😉