With my head hung down, trying to hide my morning face away from the scurry of staff hurrying between the shift changeover, I scan the floor for those familiar patterns; the wet soapy mop-marks, zig-zagging down one length of the corridor, the old, faded line of blue tape that directs patients to the Radiology Department, the main hospital lifts, and so on. And, if you look closely enough, you may also notice the smaller, finer details; the bitsy paintwork, the loose wires patched up in squares of waxy tape – perhaps only a temporary fix to an infrastructure that is otherwise falling apart. Not forgetting to mention the broken healthcare system itself, full of broken patients whose pieces are not quite all fixed back together.
With my long white cane, as a person who is registered blind, I feel for these details. The tip, or ball, of the cane rolls over any lumps or bumps on the ground, a mere metre and a half up ahead of me. Through feel and touch, via the vibrations in the moving cane that I swipe from side to side, I can detect the subtlest drops in a kerb, exact inclination of the most uneven step, the very patch where someone may've dropped their morning coffee, or perhaps, substances of less tasteful nature. And the long line of old blue tape would take me all the way to the Radiology Department, without even having to look down for it.
We are taught to look for the most common clues in Medicine. That might be why so many people look at me with so much disbelief and doubt when I tell them I am the UK's first deafblind person training to be a Doctor. Deafblind? But how do you see your patients, or hear them? That discussion is for another blog post. The point I am making here, is that, often, I rely on the far finer, and ironically, less obvious details, when a patient first presents with symptoms or a medical complaint – not just the very visual clues that first come to eye. But to the rest – well these details mostly go unnoticed. Unaccounted for. I often wonder how much we actually miss in Medicine. But what if these really small clues – the clues we feel, touch, smell, sense…meanwhile hold the biggest answers?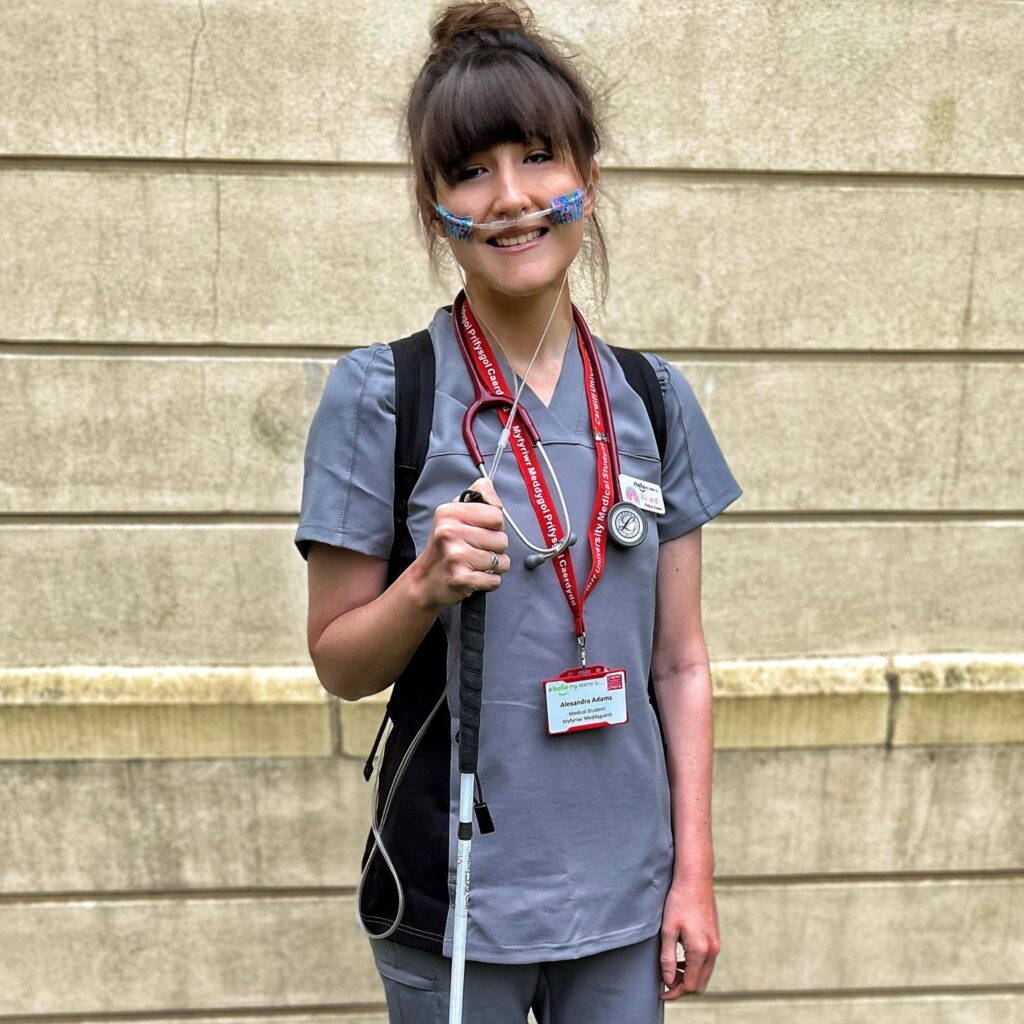 I am all too familiar with the concept of 'the missing pieces' in Medicine. I, as a patient, aside from being the medical student, know exactly what it feels like to be that 'unanswered question', 'unsolved puzzle', 'invisible presence', 'zebra amongst all the horses'. But these little details in particular, were traumatic to me – the shiny wet floors, reeking of cheap hospital disinfectant, the off-white paint peeling in the most discreet corners, the worn line of now grey-blue tape leading patients to the hospital lifts, up to the wards on the higher floors, where I spent a large chunk of my 17-month hospital admission over the COVID-19 pandemic. It brought back memories of trauma, because this was from a time when I undertook the longest, most troubling journey towards the diagnosis of a rare disease, or two. And yet, the first of many doctors there dismissed me with such arrogance and ignorance – my diagnosis back then was simply that I was "a young woman who had periods".
When I did eventually receive my diagnoses, then explaining so much of what had happened to me over these many years, the doctor just scoffed, told me that it didn't exist, and walked away from the bedside. Alone, due to visitor restrictions during the pandemic, I asked, somewhat desperately, that someone spend just a few minutes explaining to me what this new diagnosis meant, and what it meant for my prognosis and future. I found myself having to beg the doctor to explain a diagnosis to me. But the doctor just scoffed again, and said:
"Well you're a medical student. Surely you're competent enough to work it out yourself!" In truth, I don't think this consultant knew what the condition was either. It was rare. I was rare. And it made me feel lost, isolated, and stupid. In this little ward, and world, of practicing Medicine, these people saw everything as 'either, or'. Nothing else.
Much of the attitudes I experienced from healthcare professionals in this time, was not of puzzlement or exasperation, but almost of defence and retaliation, which I thought was strange, given that doctors spend a lifetime learning to problem-solve and, supposedly, look outside the box. That's not to say that I haven't experienced the good kind of medical care too – from those kind of doctors that look up beyond your demographic of being just a young, female patient, and look, feel, and really think about the less obvious clues – with compassion, empathy, and a determination to actually find the answers. Lying on the bed in the geneticist's consultation room, they took photographs of the large café au lait birthmark, often associated with underlying genetic conditions, pointed out the in-turned hip and hypermobile joints, took into account the odd undeveloped organ or two found in their deformed, incorrect locations, the unusually long, spindly, fingers, small eyes and small ears. And they tried to piece this altogether with why some of my numbers were completely normal, yet others completely out of whack, often landing me in the Intensive Care Unit requiring ventilatory support, or for electrolytes to reverse the unexplained imbalances. That, along with congenital deafblindness, gave way to a 'place' on the 100,000 Genomes Project, a project that is sequencing the whole genomes of thousands of patients with undiagnosed, unnamed rare diseases, rarer cancers, and so on. It was then that I first heard about the common saying in Medicine, that: "if you hear hoofbeats, think horses, not zebras". Yet this doctor was looking for my stripes.
As traumatic, and at times, horrific, my rare disease journey has been, something I try not to dwell on in too much detail in the public space, I am still grateful for my experiences, both good and bad. I hope that, just by experiencing the negative behaviours that many other undiagnosed patients also experience, under the care of healthcare professionals most blind to the rare stuff, the zebras, the stripes, that it can at least make me a better, more empathic future doctor, and one who takes extra-extra care to 'look' for those tiniest clues.
Sadly, I am at a point in my own healthcare journey where I have been so neglected that it has become my biggest fear, and reluctance, to address my own medical conditions, or when I need to seek medical care at the Emergency Department. For now, I can live with that. What I can't live with, is knowing that other patients, and our future generation of zebras, are being let down, and disregarded, in the same way.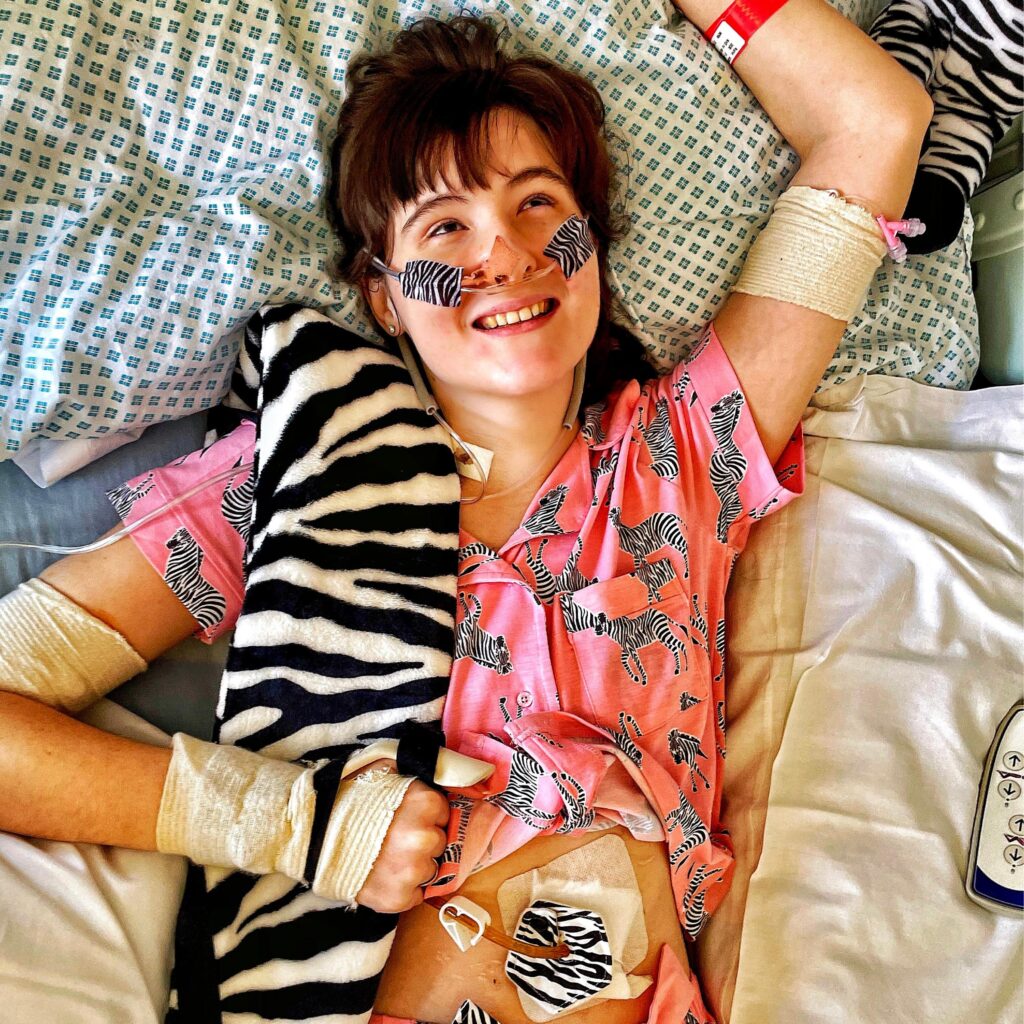 Each year, on the 28th February, we share our experiences and understanding of rare disease worldwide, in hope of raising more awareness and bettering the education of the uncommon, more unusual suspects in Medicine. But really, we need to make this an all-year thing, an every-year thing. I didn't write about my experiences last year – ironically, I was too unwell to do this, the mental and emotional strain of everything that was happening to me, or not happening to me, becoming too overwhelming. But I did share a short video summary of my journey so far with the amazing team at 'Rare Disease UK', who continue to do incredible work in the field. The thing is, even after another year on, it never really gets any easier – having a rare disease just becomes something you get used to living with, it 'being there', and being a part of your life. The downside is that, this doesn't make the condition any less rare, hence, in most patients' cases, there's still no management, treatment, or cure. You just have a name for it now. A diagnosis, which, in the eyes of doctors who look at nothing but the 'either, or', is more likely to be validated, I guess. And it's one step up from simply just being the "young, female patient", I suppose.
But, beyond all of this, and aside all that I have learnt about myself and the huge gaps in the system, I have most learnt that fixating on past traumas isn't always a good thing, and that replaying through the mistakes and resentments of your own care isn't always the best healer. Being both a medic and a rare disease patient is hard, at the best of times, but if I can learn to embrace and accept my new self, new diagnoses, and new stripes, regardless of the journey it took to get here, I can instead work on ensuring a better future for other young patients with a rare disease, diagnosed or not. I am incredibly excited to be getting involved in the UK's first SWAN clinics (Syndrome Without A Name), which is piloting the in-depth role of the multidisciplinary team approach, when it comes to supporting patients and their families who are still searching for answers. We are also, in conjunction with M4RD (Medics 4 Rare Diseases) and Cardiff University, currently carrying out research on the quality and effectiveness of rare disease education delivered, or not, to medical undergraduates, via the Rare Disease Evaluation Study (RISE UK 2023). This hopes to help determine whether a greater focus on rare disease education is needed, and thus whether it can help better prepare future generations of doctors, to in turn, provide better outcomes in the treatment and support of future rare disease patients. And I'm here for all of that.
On a separate note, if you are a medical student, anywhere in the UK, I'd be eternally grateful if you could take just a few minutes to fill out this anonymous questionnaire below on rare disease education at your medical school. Your contribution and feedback could help hugely shift focus in the rare disease world and beyond. Perhaps then, we may just someday be able to identify all the stripes still missing in Medicine. That would be the best of all Rare Disease Days put together!
Happy Rare Disease Day, 2023.