M4RD's Ambassadors come together for the first time
In September 2022 we welcomed our new cohort of ambassadors for 2022/23 which included 10 Clinicians, 5 Medical Students and 4 Patient Advocates.
Jo McPherson and Melissa Clasen run the ambassador programme and following a full review ahead of the new cohort induction, implemented activity logs, event calendars and an online forum within the M4RD: Learn platform.
If you've already read our previous 'round-up blog' you'll know just how much we had to 'celebrate' by hosting our first ever ambassador face to face meeting: Regular contact has been maintained throughout the academic year and a 'Train The Trainer' event was introduced which has enabled ambassadors to deliver Rare Disease 101 training events for their peers! The cohort has been completely engaged with the work of M4RD and has been involved in writing content for the website and for peer-reviewed literature. They are also invited to speak at events and are really important for making sure that the patient voice is heard through our work.
One of Jo and Mel's key objectives was to have the opportunity to bring everyone together at the end of the academic year for a 'lunch & learn event'. Although not everyone was able to attend, we were still a fabulous group of 10, with ambassadors travelling from all over the UK to come together on 18th July in London.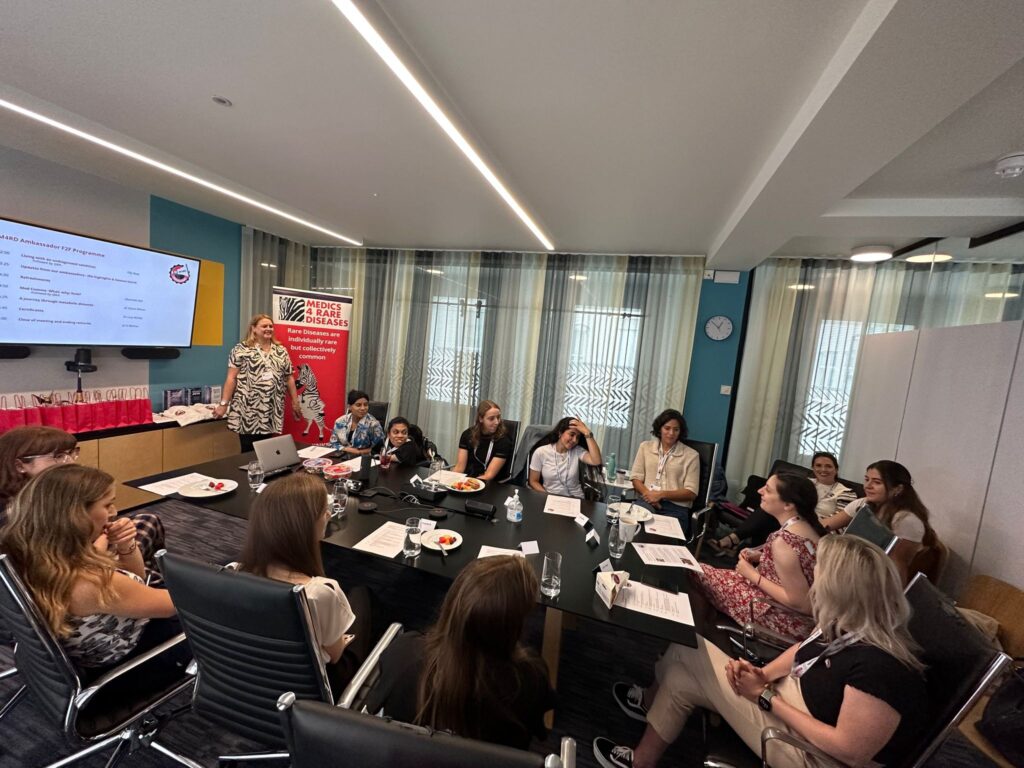 Our speakers
Our first speaker was Tilly Rose, an author and activist, championing access to higher education and patient advocacy.
"It was refreshing to see a group of medics who were so committed to the zebra #BeMoreMaverick", Tilly Rose
Tilly spoke openly and candidly about her own diagnostic odyssey and her story resonated with both patient and clinical ambassadors alike who had similar experiences to those Tilly shared, especially when talking about how "it only takes one person to care"!
"When you meet someone living with a rare disease for the first time, to listen to their story and treat them with kindness." M4RD Ambassador
"Kindness. Whether we are patients or medics, regardless of our circumstances, we can always seek to be kind." M4RD Ambassador
Our next speaker was Charlotte Roe who studied Biomedical Science at the University of Birmingham and is an Account Manager at emotive medical communications agency, where she has worked for 3 years. Charlotte talked about the 'what', 'why' and 'how' medical communications plays a crucial part in the rare disease space.
"Thank you for organising such a great day! Really interesting speakers followed by some thought provoking discussions. It was great to meet everyone and enjoyed getting ideas about how I can do more to advocate/ run events next year." M4RD Ambassador
The highlights and lessons learnt
Between speakers, we had a 'round-robin' session where each of our ambassadors was able to share their own experiences of the programme: their highlights; the lessons learnt; people that they've been able to influence/reach as an ambassador; how being an ambassador has improved their own role as a patient advocate/medical student/clinician. Every single person in the room brought something valuable to the table and sharing in a 'safe place' really yielded some valuable and raw discussions from all perspectives. It was clear to see how patients, medical students and clinicians have and can all impact each other.
"Personally I found it very empowering to able to talk about my own experiences and view points." M4RD Ambassador
Certificates and closing remarks
At the end of the afternoon our CEO, Dr Lucy McKay presented each of our ambassadors with a certificate of appreciation and a little 'goodie bag' to say thank you for an incredible year with M4RD.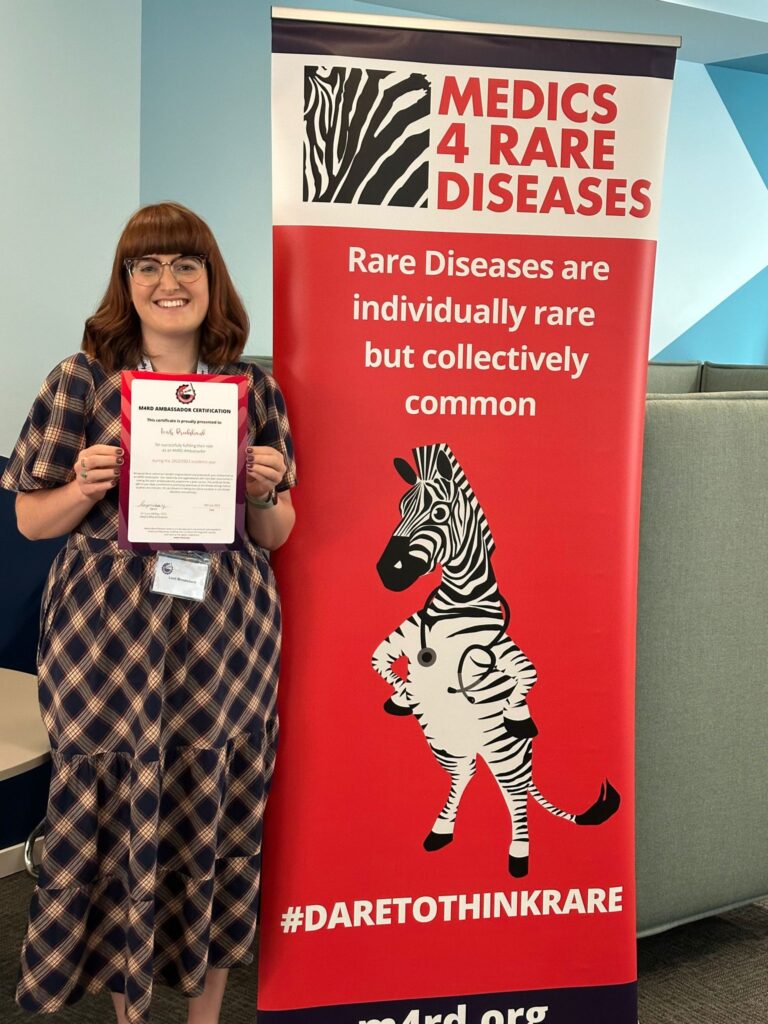 Reflections from Melissa Clasen, M4RD's Training & Education Officer
Spending the day with rare disease ambassadors was an incredibly enriching and heartwarming experience, one that left a lasting impact on me. As we gathered together to reflect on a year's worth of tireless work within the rare disease community, I couldn't help but be overwhelmed by the sense of unity and determination that permeated the room. Hearing the personal stories of our patient, student and clinical ambassadors, working diligently to improve care in clinical and non-clinical settings, was both inspiring and humbling. It was evident that the collective efforts of everyone involved had significantly increased rare disease awareness, reaching far beyond what we initially envisioned. The dedication and passion of these ambassadors were truly awe-inspiring, and being a part of their journey filled me with a profound sense of fulfillment and purpose.
Throughout the day, we delved deep into discussions about the challenges faced by rare disease patients and explored ways to enhance their care and support. Listening to these firsthand accounts shed light on the realities of living with rare diseases and the gaps that still exist in healthcare systems. It was evident that collaboration between patients, caregivers, healthcare providers, researchers, and policymakers is crucial to drive meaningful change and ensure patients receive the best possible care. Together, we brainstormed innovative ideas and strategies to break down barriers in accessing treatments and to improve the overall quality of life for those affected by rare diseases. The energy and synergy among us fueled a renewed commitment to our shared mission, leaving me with a sense of hope and optimism for a future where rare disease patients receive the care and attention they deserve.
A big thankyou to our Ambassadors
On behalf of the M4RD team, we will say it again, congratulations on your incredible journey as Rare Disease Ambassadors. Thank you for your time and efforts today to come together to commemorate your exceptional achievements and express our deepest gratitude for your remarkable service for the charity and beyond. We are inspired by the impact you have made and the transformative change you have brought about. We are even more excited to see what you go on to do in the future using your respective platforms.
And a final shout out to emotive
Thanks once again to the team at emotive for letting us take over their office for the day to host our meeting!