We can't quite believe that it's been (just over) six months since our 2022/23 cohort joined us – and what a journey it's been with SO many wonderful activities being reported by them all!  It's been great following all their progress and to have such an engaged group of individuals helping us to promote and get involved in activities such as the Student Voice Prize, The Unusual Suspects and the RISE student study.
In November 2022, M4RD held a 'Train the Trainer' event for our ambassadors to enable them to deliver Rare 101 training. So far this year, 4 of our ambassadors have used this training to give their very own rare disease presentations:
Madeline Pearson, a student ambassador from Dundee University held an online rare disease webinar on 8 March which was attended by 20 participants.
Zainab Alani, a student ambassador and previous Student Voice Prize winner from Glasgow University hosted a conference day for their student society 'Rare Aware Glasgow' on 18 March attended by 60 participants.
Dr Lauren Ferretti, a clinical ambassador, facilitated an event on 21 March on Neonates and Obstetrics. Following an introduction from Lauren, M4RD will be working with the Applied Paediatrics Programme (2 year Masters) later this year to include rare disease education in their modules.
Dr Alex Downes, a clinical ambassador, has been facilitating online teaching sessions from a series of 5 for the London School of Paediatrics. The first on 18 April was on transition of care in rare disease and the second event will be in June about communication of genetic information.
Rhoda Walker, a patient ambassador, attended the North – South Rare Disease Day event 2023 at the Stormont Estate. The event, delivered by the Northern Ireland Rare Disease Partnership (NIRDP) and Rare Diseases Ireland (RDI), took place on Tuesday 28 February in the Long Gallery at Parliament Buildings.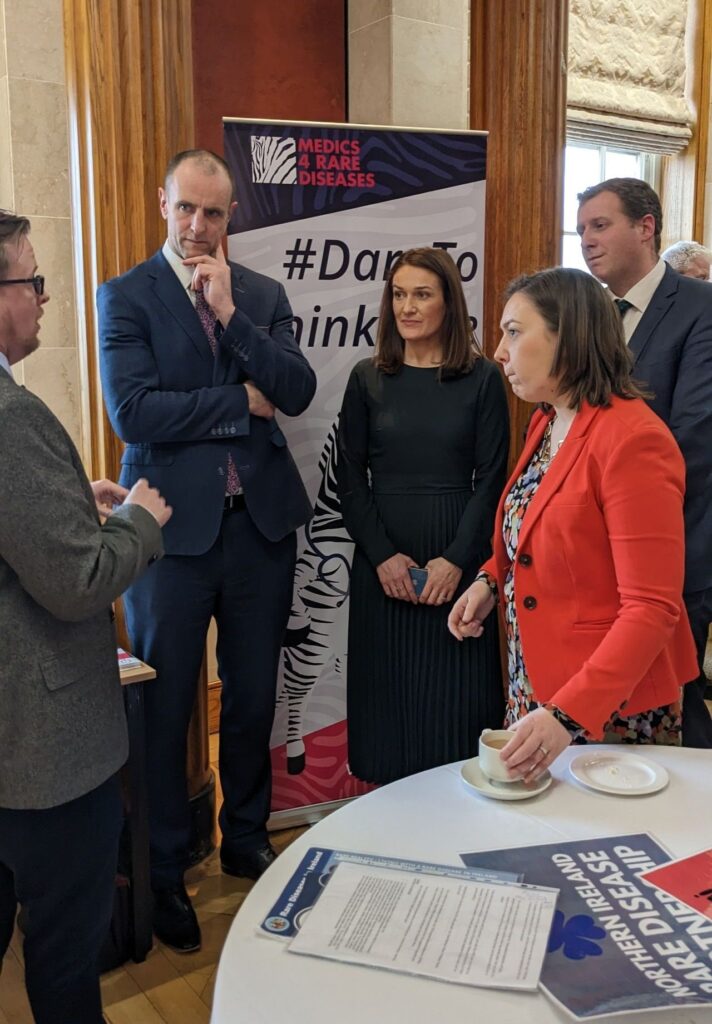 The event was sponsored by the All-Party Group on Rare Disease MLA's Mark H Durkan, and Deborah Erskine with support from the Department of Health and attended by politicians, health professionals, academics and researchers, individual condition support groups and of course most importantly, experts by experience from both North and South of Ireland. Those in attendance heard an update on rare disease policies and plans on the island of Ireland, an overview of political All-Party Groups on rare diseases and a review of the work of RDI and NIRDP.
"It was a great occasion to catch up with colleagues from across the island and across the rare disease space.  And an excellent opportunity to discuss the work of Medics 4 Rare Disease, with contacts old and new,  especially our new NI Clinical Lead for Rare Disease.  Key messages and stripy socks were shared, worn on feet and hands and many new contacts were forged. Networking, updating, connecting, advocating – a fabulous event lifting the voices of and raising awareness for M4RD and of course the entire RARE community!"

Rhoda Walker
Some reflections from our ambassadors…
Dr Grace Knight, F1 doctor
"Starting as an F1 doctor has been a whirlwind adventure that has been both fascinating and incredibly challenging. However, whatever is going on at work or in training, M4RD has provided a constant reminder of why I go to work every morning… to improve lives for patients. As obvious as this may sound, it's easy to lose sight of the importance of people's lived experiences in amongst the prescriptions, rotas, letters and bleeps! In particular I loved coming home to a pair of stripy socks, and getting to chat to a new generation of rare disease allies at the Student Voice Prize Rare Disease Day event – hearing that more and more people are getting excited and inspired to improve Rare Care was so encouraging to me. I wore my socks with pride, and it felt really special to know I was just one of so many across the country coming together to push forward care for all the amazing people living with a Rare Disease! "
Lottie Mercer, medical student ambassador
"It's been an absolute pleasure to be a student ambassador for M4RD this year and I've enjoyed daring fellow medical students at Southampton University to think rare!
Excitingly, this month I'm joining M4RD for my final year medical elective and I'm looking forward to meeting more people from the rare disease community and helping to increase awareness of the impacts of rare disease on mental health."
Leah Brooksbank, medical student ambassador
"Being an M4RD medical student ambassador for the past 6 months has been a privilege. The stand out moment for me so far was attending The Unusual Suspects at the Royal Society of Medicine in February. It was an incredible opportunity to meet people involved in the rare disease community, including patients, advocacy groups, clinicians, and fellow students. The speakers were candid and motivating, and hearing about their own experiences made me feel more driven than ever to continue advocating for people who live with rare conditions in my own work. it also allowed me to meet other M4RD ambassadors and staff face-to-face – after months of emailing and zoom calls, it was lovely to finally all be in the same room and to talk about the work that we have been doing!"
Aisha Seedat, patient ambassador
"I'm grateful for all the knowledge and resources the M4RD team have equipped me with as a Rare Disease advocate, as this will enable me to expand my knowledge on advocacy work I do. Also, I'm glad to have made connections with other ambassadors which has helped in making lifelong rapport."

Aisha Seedat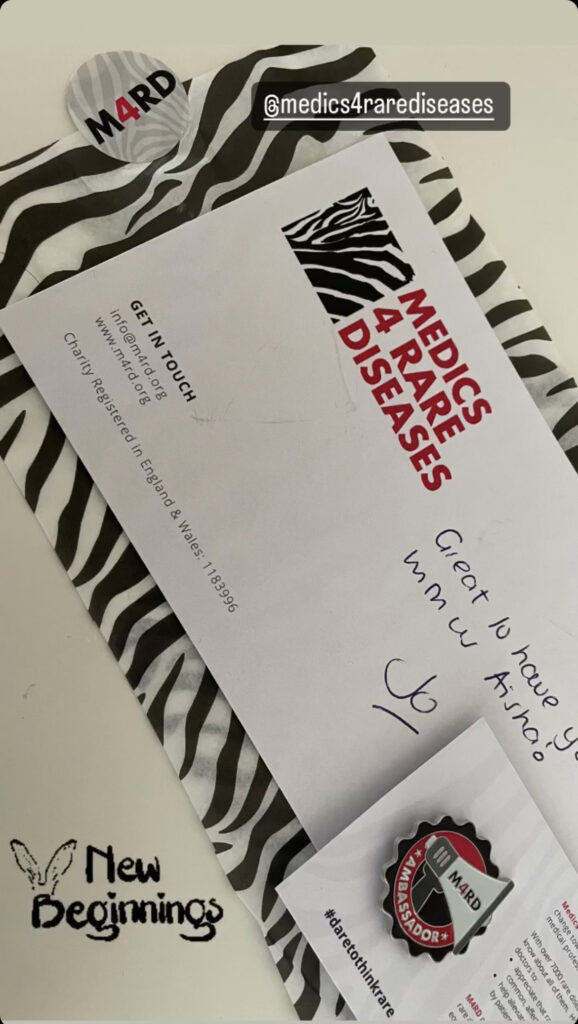 The 2022/23 cohort includes 10 Clinicians, 5 Medical Students and 4 Patient Advocates. Being an M4RD ambassador is valuable because it provides a platform to raise awareness and advocate for those who are impacted by rare diseases. These diseases often affect a small percentage of the population and may not receive the same level of attention or funding as more common diseases. As an ambassador, one can help amplify the voices of those who are affected, support research efforts, and work towards policy changes that improve the lives of people with rare diseases.
Additionally, being an ambassador can inspire hope and provide a sense of community for individuals and families who may feel isolated or alone in their experiences.
Could YOU be our next M4RD ambassador? You can read more about our Ambassadors here
Keep an eye on our social media over the summer months when we'll be opening up the programme for new recruits to join us in September 2023!