Medical Students asked to "Think Rare"
Rare diseases affect approximately 350 million people worldwide, yet they are some of the most difficult conditions to diagnose. Despite the number of people affected and the challenge they pose for clinicians, the rarity of each individual condition means that little time is dedicated to them during medical school.
The Student Voice Prize, now in its sixth year, asks medical students to "think rare" and consider the role that clinicians have in the patient experience. It highlights the importance of rare diseases and patient engagement to the doctors and researchers of the future.
M4RD was proud to collaborate with Findacure once again to capture the student voice on the subject of rare diseases.
"Being able to share a patients' story on what it means to live with a rare illness has been an invaluable experience. I would strongly encourage all students to reflect on what they can learn from these rare patients, and how we can work together to create a change for the better."

Dr Logan Williams, Winner of Student Voice Prize 2018
This year, the competition which was open to undergraduate and masters students around the world, posed three questions to encourage students to think about the patient experience of rare diseases, and the ways that doctors and researchers can improve it. A winning essay was selected for each question, with one essay chosen as the overall winner and securing open access publication in Orphanet Journal of Rare Diseases.
The Overall Winner
The overall winner of The Student Voice Prize 2019 was Anna-Lucia Koerling from The University of Cambridge. Anna-Lucia answered Question 2: 'Living with a rare disease is a life-long learning experience which invariably leads to challenges with mental health alongside physical symptoms. Use a case study to demonstrate how future doctors can learn from patients to improve the management of these complex conditions'. Anna-Lucia describes an interaction between herself and a young man with neurofibromatosis type 1 and beautifully demonstrates the opportunities for learning and caring that are lost when forget to treat patients holistically.
"So, how are you doing? Mentally, rather than physically?"

I watched as David's eyes filled with tears, which he wiped embarrassedly on the blanket. It became apparent that in the 8 days since his admission, no one had asked him how he was dealing with the mental burden of his condition – something which is all too common for rare disease patients.

Excerpt from Anna-Lucia's winning essay.
The Runners Up
The three runners up were:
Muhammad Shaikh from The University of Leicester who answered Question 1 with his essay titled 'Improving Rare Disease Recognition Through Undergraduate Medical Education'
Sandy Ayoub from St George's University who used the Patient Group Pairing Scheme in order to answer Question 2. Her essay was titled 'Dual Deprivation: Understanding the Psychological Burden that Coexists with the Physical Struggles in Individuals with Rare Diseases and their Caregivers'.
Anneliese Ng from The University of Western Australia who answered Question 3 with her essay titled 'Inequities in Healthcare Provision Between Indigenous and non-Indigenous Australians'.
We are excited to confirm that the winner, Anna-Lucia, will be talking about her essay at the M4RD annual symposium 'The Unusual Suspects: Rare diseases in every day medicine' on 19th Feb at The Royal Society of Medicine. Book your place via our events page.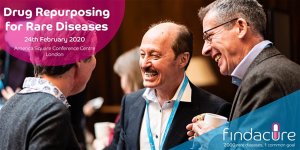 Also, book your place at Findacure's 7th annual Drug Repurposing Conference on 24th February at the America Square Conference Centre. Drug Repurposing plays a huge role in lowering the costs and accelerating the development of rare disease treatments. Findacure's conference unite the rare disease community to showcase innovative and groundbreaking projects that can bring real change to those living with rare diseases. And if that wasn't enough, our CEO, Dr Lucy McKay, will be attending for the competition prize giving.
The full versions of each of their essays will be published online through BioMedCentral in the lead up for rare disease day, and we'll be sure to let you know when and where you can read them. Well done to all of you who entered this competition. We hope you will continue to #DareToThinkRare.
Thank Yous
Thank you to everyone who took part in the competition, the patient groups and patients who helped with the process. Thank you to Findacure for their great collaborative efforts and lastly, thank you to the sponsors of The Student Voice Prize 2019 who make the competition possible: