The Student Voice Prize is back for its 7th year with a new website and logo!
The Student Voice Prize is an annual international essay competition brought to you by M4RD in collaboration with Findacure. The competition focuses on raising the profile of rare diseases within the medical field – particularly with medical students, nurses and scientists who may not realise the relevance of rare disease in to their careers.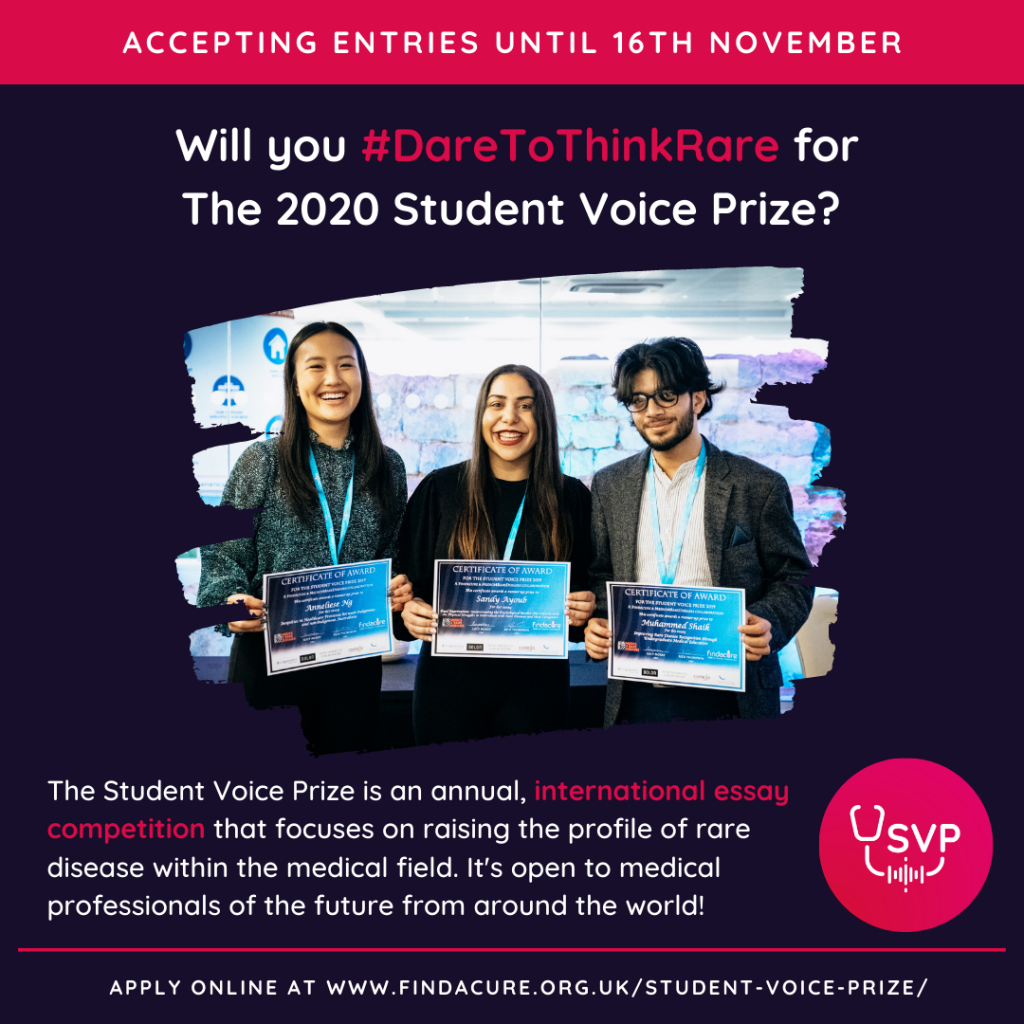 While rare diseases are individually rare, they are collectively common: 1 in 17 people will be affected by a rare disease at some point in their lifetime. Therefore raising awareness of the challenges of living with a rare disease is of great importance. The competition also provides students the opportunity to enrich their knowledge and add to their CVs.
The 2020 prizes include
Publication in one of the world's most widely read scientific journals
Speaking engagements include at The Royal Society of Medicine
Free trip to scientific conferences with all travel expenses paid (pandemic restrictions allowing)
Become an advocate for rare disease
Money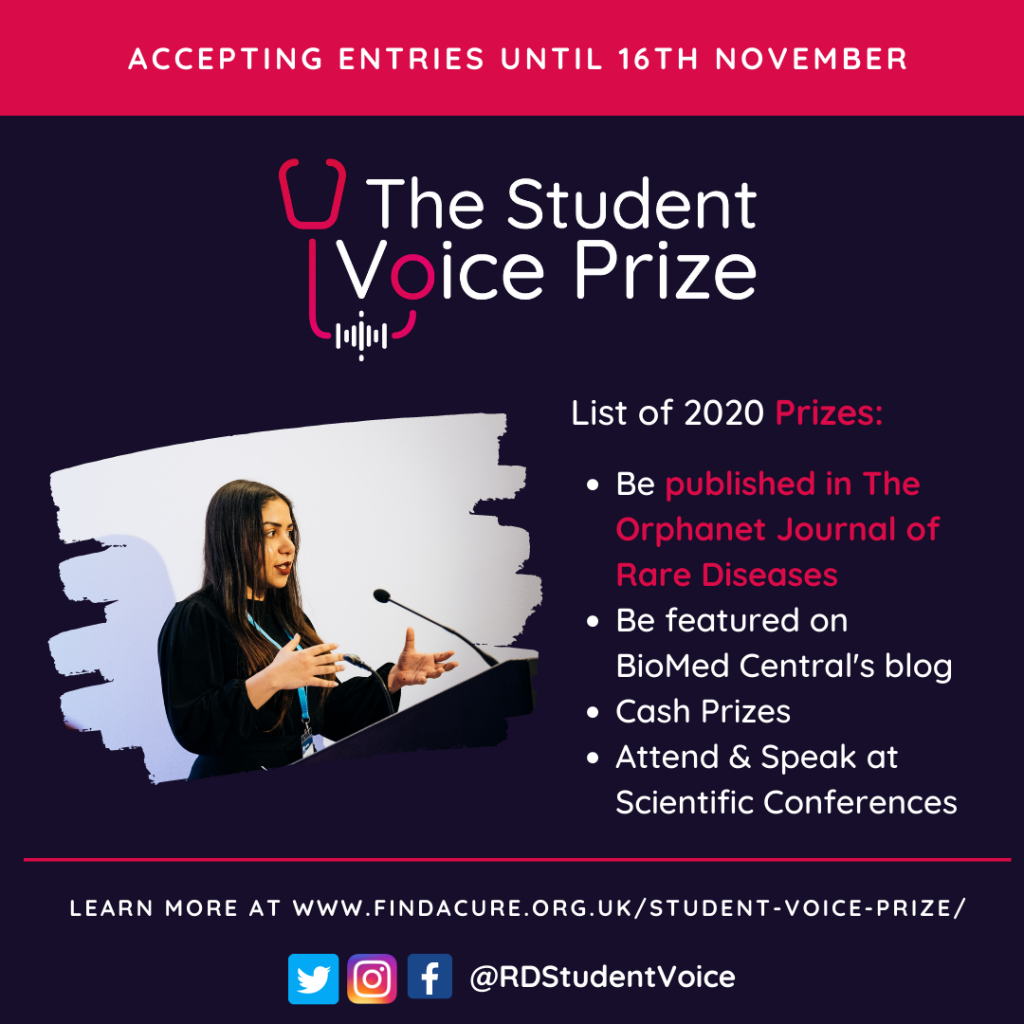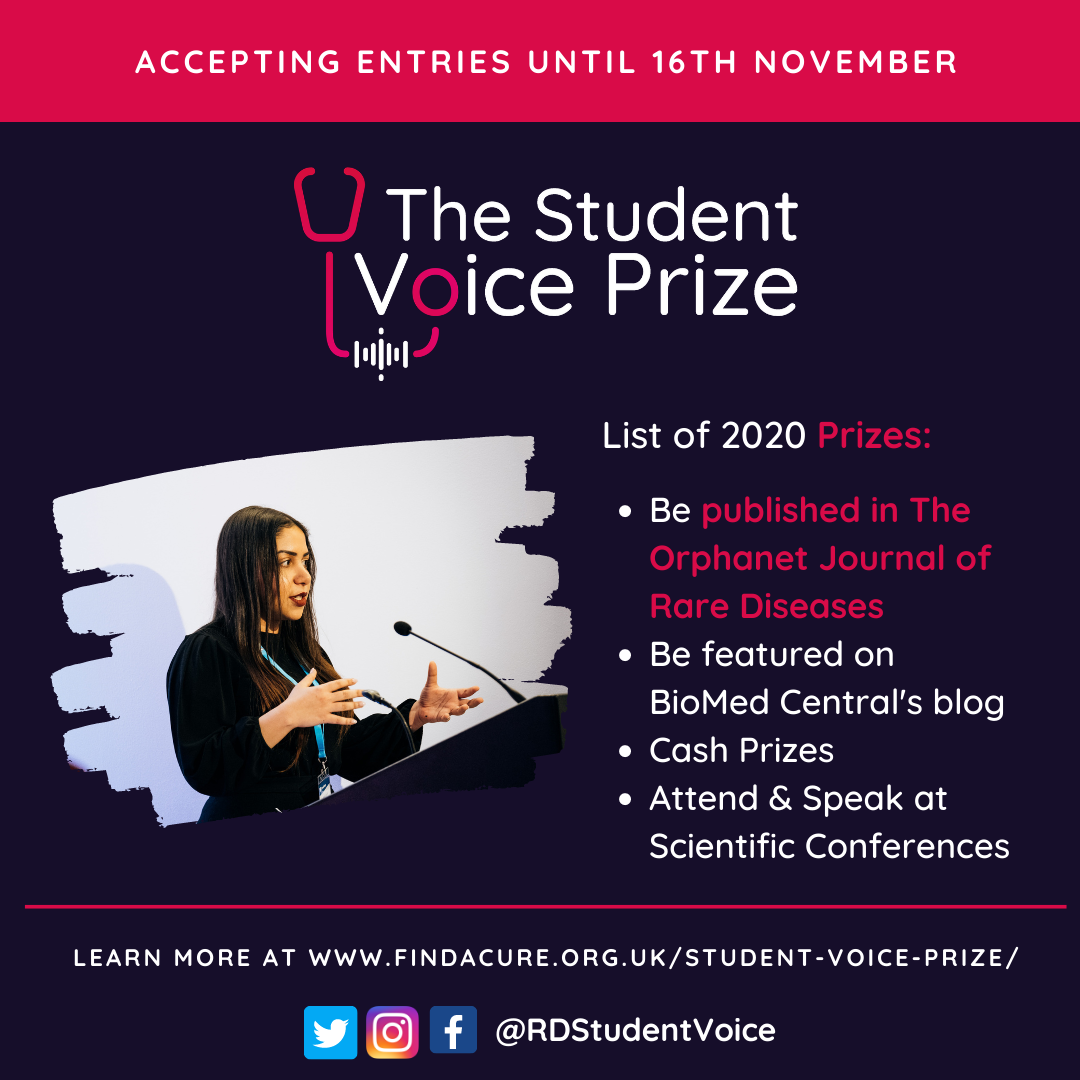 The Questions
This year's questions revolve around COVID-19, telemedicine and the rare disease patient experience – allowing students to share their thoughts on how healthcare can be improved for a large, but poorly represented community.
The Case Study
We know it's not always easy to find a willing patient to interview and write a case study about. Especially if you're not in your clinical years or your placements have been disrupted due to restrictions. But do not fear! We have a cunning plan.
The Student Voice Patient Group Pairing Scheme!
You can sign up here to be partnered with a patient group who will help put you in touch with patients and families with a rare disease. Sandy Ayoub took advantage of this scheme last year and was a runner up. Sandy spoke at Findacure's Drug Repurposing Conference in February this year about her experience. You can watch her below.
Who can enter?
If you fall under any of the following categories, you can enter The Student Voice Prize essay competition!
Medical students
Trainee nurses
Undergraduate and masters students enrolled in biological sciences studies (pharmacy, biology, genetics, biomedical science, pharmacology etc.)
Please note: Entries from PhD students will not be accepted