Hello! I'm Nadine, Executive Assistant at Medics4RareDiseases, and I'm thrilled to tell you about my trip to Brussels with CEO Lucy McKay. On the 8th February we visited the European Parliament to attend a conference addressing the unmet needs of people with rare diseases. The conference discussed what the EU can do to make treatments for those living with rare diseases more affordable and accessible – but more on that later.
Fuelled by a belgian Nutella waffle, we explored the city while "showing our stripes" in anticipation of Rare Disease Day on 28th February 2023. Thank you to everyone who got involved with our campaign, and helped spread awareness of this important day! You can check out our gallery with all the stripy sock pictures here.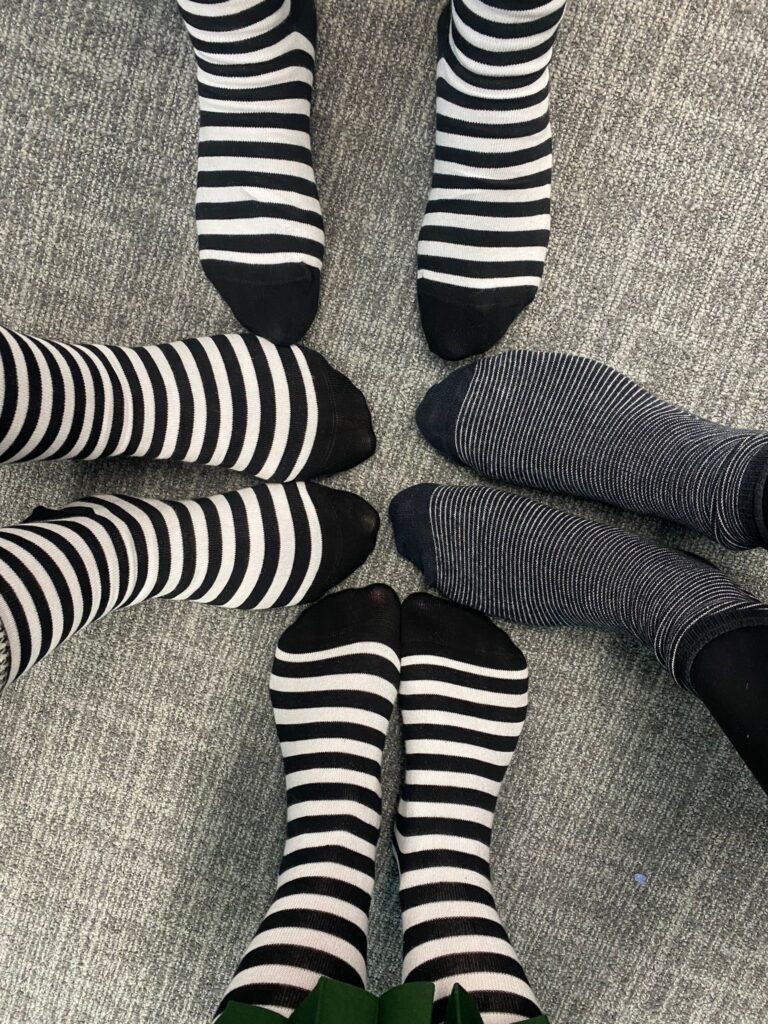 Then we made our way to the European Parliament to attend the conference led by EURORDIS – a non-profit alliance that works to improve the lives of over 300 million people living with a rare disease globally.
The Conference, named 'For a patient-driven evolution of the Orphan Medicinal Product Regulation: Addressing unmet needs', consisted of several speaker panels. They explored the barriers that people living with rare diseases face when trying to get equal access to affordable treatment in Europe, and spoke about a new set of regulations set to be published in March that aim to tackle these issues. If you are interested, you can watch the conference here.
Rebecca Skarberg shared her own experience of receiving symptomatic treatment, rather than clinicians addressing the root cause of her Osteogenesis Imperfecta (OI), a problem with collagen affecting the whole body. OI was discovered centuries ago, and yet no transformative treatment has been found. In fact, I was shocked to learn that only 5% of people living with rare diseases have received a transformative treatment approved for the entire European Union, with 69% of rare disease patients receiving only symptomatic treatment for their rare disease. Compare this to the speed at which the Covid-19 vaccine was developed, and you're left wondering why more isn't being done for people like Rebecca living with a rare disease.
Yann Le Cam, Chief Executive Officer of EURORDIS, spoke about the language in the drafted regulations set to be published in March. While it is "going in the right direction", he said, there are also certain words that could be misinterpreted. For example, should a disease be referred to as "serious" or "chronic"? Equally, what exactly is meant by "meaningful" treatment? Dominique Sturz, Vice Chair of the Austrian Rare Disease Alliance, stated that it should be patients themselves who define what makes treatment meaningful.
Taking place sixteen years after Rare Disease Day was founded, this conference was vital to remind European powers that there is always a person behind a rare disease, and it is their voice that must be heard so that treatments can be accessed equally and affordably across Europe. As Avril Daly, President of EURORDIS rightly stated, "it is in our power as a community to not leave anybody behind." I found the conference eye-opening and learnt about the important work that goes on behind the scenes for the rare disease community. I'll be looking out for when the regulations are published, and hope to see them make a positive impact for the rare disease community in the near future.
Before we knew it, it was time to go home, but not before one last Belgian beer!