Mystery Monday is BACK and this week we are focusing on Familial Intracranial Aneurysms! Thank you so much to HBA Support for the fantastic resources!
Be sure to stay in the loop with Mystery Monday by following us on Instagram and viewing our latest posts and stories. We also conduct a poll to see how many of you have heard of each rare disease.
To follow us, head to our instagram now.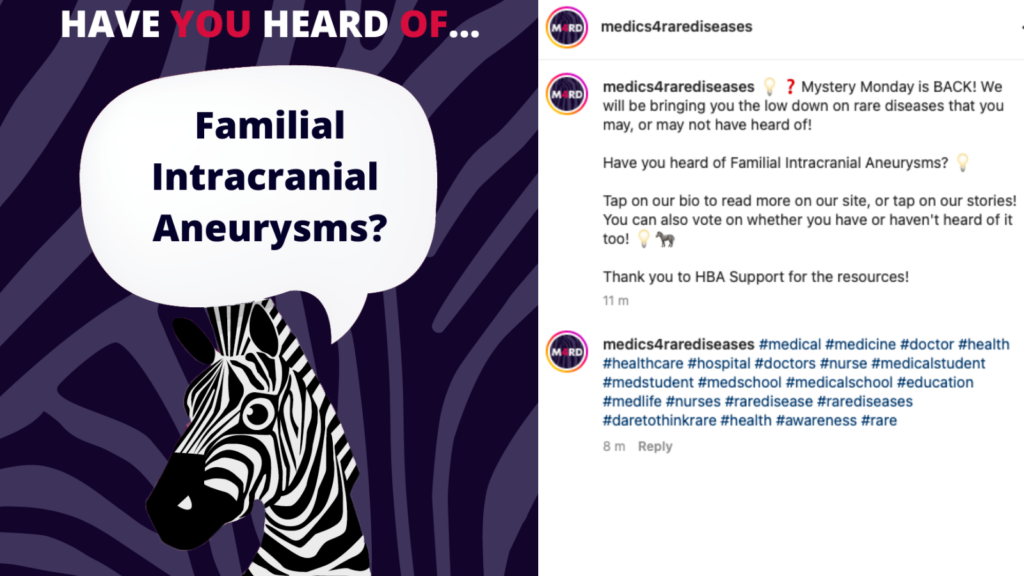 What are Familial Intracranial Aneurysms?

An intracranial aneurysm (IA) is a vascular condition which can lead to a life threatening
subarachnoid haemorrhage (SAH). There are two types of IAs, sporadic intracranial aneurysm
(SIA) cases occur without any family history of IA, whereas familial intracranial aneurysm (FIA)
cases cluster in families. Although various acquired risk factors associated with IAs have been
identified, heritable variants or associated conditions associated with IAs formation account for
less than 1% of all IAs.
Numerous studies comparing the characteristics of FIAs with those of non-familial (sporadic) aneurysms have found that familial aneurysms rupture about 5 years earlier, on average, and are smaller than sporadic aneurysms; are underrepresented in the anterior communicating artery; and frequently occur as multiple aneurysms.

What symptoms and signs should I look out for?

IA's often don't cause any symptoms prior to rupture although some individuals can experience
headaches and seizures. If an IA presses on a nerve it can result in a droopy eyelid, double
vision or other changes in vision, pain above or behind the eye, a dilated pupil or numbness or
weakness on one side of the face or body. If a brain aneurysm bursts, symptoms can include a
sudden, severe headache, nausea and vomiting, stiff neck, loss of consciousness, and signs of
a stroke. Any of these symptoms requires immediate medical attention.

Unfortunately, most individuals with FIA are identified incidentally during screening for other
conditions and many are only identified following a rupture. Therefore, it is important to dare
to think rare and take note if a patient has a family history of IA's. Identifying this can be
life-saving.
In the UK, the NHS currently recommends that people who may be at risk from familial brain aneurysm syndrome speak to their GP, who can then refer them to a specialist clinic. Screening is currently recommended for people who have had two or more first-degree relatives (father, mother, sister or brother) who have been confirmed to have a brain aneurysm or who have had a 'subarachnoid haemorrhage' caused by one. Alongside a positive family history, increased risks for an IA also include, age (over 40), being female, smoking, alcohol consumption and high blood pressure.

What is the cause of FIAs?

Unlike some conditions caused by variation to a single gene or genes, multiple different genetic
variants have been associated with increased risk of FIA development. Variants of over 30
genes are suggested to increase the susceptibility of FIAs. Variation in over 20 chromosomal
regions are also thought to increase susceptibility of FIAs. Specifically, variants of CDKN2BAS,
SOX17, NOTCH3, LOXL2, ARHGEF17 and ANGPTL6 were reported in multiple studies.
These genes are involved in blood vessel strength, providing a potential link between these genes and
FIA development. Some single gene conditions also confer a separate risk for developing an IA
and it is therefore important to refer your patient to clinical genetics for an assessment and evaluation to rule out a single gene condition. Even if a genetic diagnosis is not available genetics professionals are able to calculate recurrence risks, refer families for follow-up and when appropriate, for additional familial genetic association studies.
Where feasible, risk for apparently-unaffected family members may be refined by imaging studies in other relatives. Where can I find out more about FIAs?

For more information and up to date research, head on over the the Hereditary Brain Aneurysm
Support UK website at www.hbasupport.org and if you missed this week's Mystery Monday
feature, be sure to check out our Instagram highlights.
References:
HBA Website https://www.hbasupport.org
Targeted Literature Review:
https://www.hbasupport.org/uploads/brain-aneurysms-research/brain-aneurysm-research.pdf

Mohan, D., Munteanu, V., Coman, T., & Ciurea, A. V. (2015). Genetic factors involved in
intracranial aneurysms–actualities. Journal of medicine and life, 8(3), 336–341.

Lee, J. S., Park, I. S., Park, K. B., Kang, D. H., Lee, C. H., & Hwang, S. H. (2008). Familial
intracranial aneurysms. Journal of Korean Neurosurgical Society, 44(3), 136–140.
https://doi.org/10.3340/jkns.2008.44.3.136

Chambers, W. R., Harper, B. F., Jr, & Simpson, J. R. (1954). Familial incidence of congenital
aneurysms of cerebral arteries: report of cases of ruptured aneurysms in father and son. Journal
of the American Medical Association, 155(4), 358–359.
https://doi.org/10.1001/jama.1954.73690220001007

Alg, V. S., Sofat, R., Houlden, H., & Werring, D. J. (2013). Genetic risk factors for intracranial
aneurysms: a meta-analysis in more than 116,000 individuals. Neurology, 80(23), 2154–2165.
https://doi.org/10.1212/WNL.0b013e318295d751

Hitchcock, E., & Gibson, W. T. (2017). A Review of the Genetics of Intracranial Berry
Aneurysms and Implications for Genetic Counseling. Journal of genetic counseling, 26(1),
21–31. https://doi.org/10.1007/s10897-016-0029-8
Website: https://www.nhs.uk/conditions/brain-aneurysm/