Competition now open with three new questions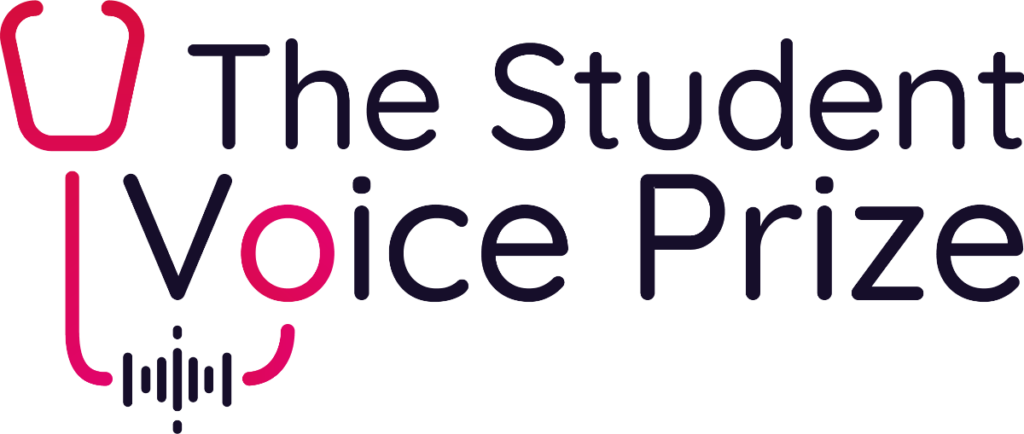 The Student Voice Prize is an annual and international essay competition brought to you by M4RD in collaboration with Beacon, with a focus on raising the profile of rare diseases within the medical field. The competition challenges the next generation of doctors, nurses and researchers who may not realise the relevance of rare disease in to their careers to #DareToThinkRare.
Returning for its 9th year, The Student Voice Prize competition has now opened with three new questions and the opportunity for patient pairings! You can view the office press release here.
While rare diseases are individually rare, they are collectively common: 1 in 17 people in the UK will be affected by a rare disease at some point in their lifetime. Therefore raising awareness of the challenges of living with a rare disease is of great importance. The competition also provides students the opportunity to enrich their knowledge, enhance their CVs and of course get published!
The Topic
This year's topic will focus on the mental health implications of rare diseases. These patients traverse a complex landscape of investigations, diagnosis and management, often passed from one healthcare professional to the next. It is a distinctly challenging journey, often fraught with confusion, exhaustion and feelings of marginalisation. There are unique mental stressors and strains that arise from this which need to be acknowledged and addressed.
This topic gives doctors, nurses and scientists, of tomorrow, the opportunity to understand the mental health needs of patients with the most complex conditions.
The Questions
Question 1
Using a case study or a number of case studies reflect on how an individual's experiences within the healthcare system and with healthcare professionals may impact their psychosocial wellbeing, and the role of HCPs in managing these.
Question 2
Access to treatment can vary greatly between rare conditions and even between individuals living with the same condition. This could be because there is no disease-modifying drug or there is one that the patient can't access due to eligibility or location; there is a drug that is anecdotal known to alleviate symptoms but it isn't licensed; there is a drug on trial but the patient isn't eligible.
Discuss how access to treatment, management and research can impact a person's mental wellbeing.
Question 3
Diagnosis can be a challenging journey for many people living with a rare condition. Compare and contrast the diagnostic journey of two or more people/families living with a rare condition, reflecting on the impact of these experiences on their mental well-being.
How to Submit
In 1,500 words or less, please answer one of the three essay questions provided above. You can enter only one essay, so choose wisely!
? Submit your Essay here
? Deadline: Before 12:00 pm GMT on 16th November 2022
ℹ️ View full submission details to learn more.
The Prizes
The overall winner gets published in The Orphanet Journal of Rare Diseases which equates to one FPAS point when applying for Foundation Programme places! Each runner-up will also get published on BioMed's 'On Medicine' blog.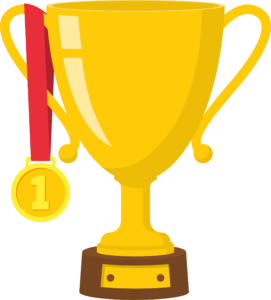 Other prizes include:
?️ Speaking engagements for M4RD and Beacon
? A years' membership at the Royal Society of Medicine
? Become an advocate for rare disease
? Money

In need of more inspiration?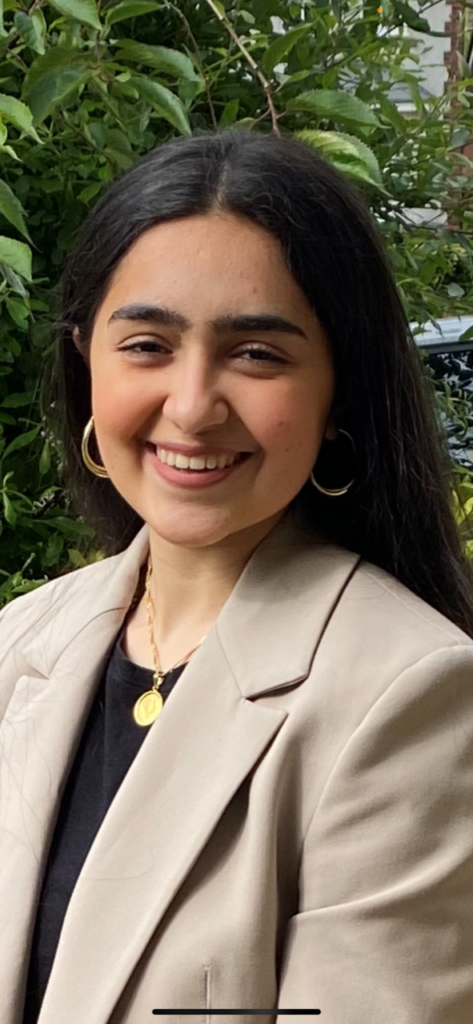 Check out last years' winning essay 'Exploring Intersectionality; an international yet individual issue' from Zainab Alani who entered the completion during her 1st year as a medical student at the University of Glasgow. Since winning the competition Zainab has been asked to speak at various events including M4RD's annual symposium 'The Unusual Suspects' and Beacon's RAREShowcase22.
Zainab has also successfully co-founded RAREAware Glasgow, a rare disease student society and become one of M4RD's Ambassadors, wearing both a 'patient' and 'medical student' hat! (As well as being a medical student, Zainab is an individual living with the rare disease Myasthenia Gravis.)
Listen out for a special episode of The Rare Disease Podcast 4 Medics later in the month when we'll be talking to one of the SVP2021 runners-up, Meagan Collins who is studying at Buffalo Jacobs School of Medicine & Biomedical Science, USA. Meagan's essay "Looking through a new lens: insights into patient participation in rare disease research" was published as a blog by BioMed Central 'On Medicine'. Read the blog here.

Meagan was paired with CureGRIN foundation for her essay and spoke about how this allowed her "to contextualise a patient family experience and address the essay topic in a more meaningful way".
Find out more about being paired with a patient group
The Student Voice Prize Patient Group Pairing Scheme gives medical students, nurses and biological sciences undergraduate and masters students the chance to be paired with a rare disease patient group to learn first-hand about their condition and patient experience. Students can choose to gain a unique insight into the lives of those with rare diseases by being 'paired' with a rare disease patient group. Last year there were 60 such pairings, providing invaluable insight into the patient experience.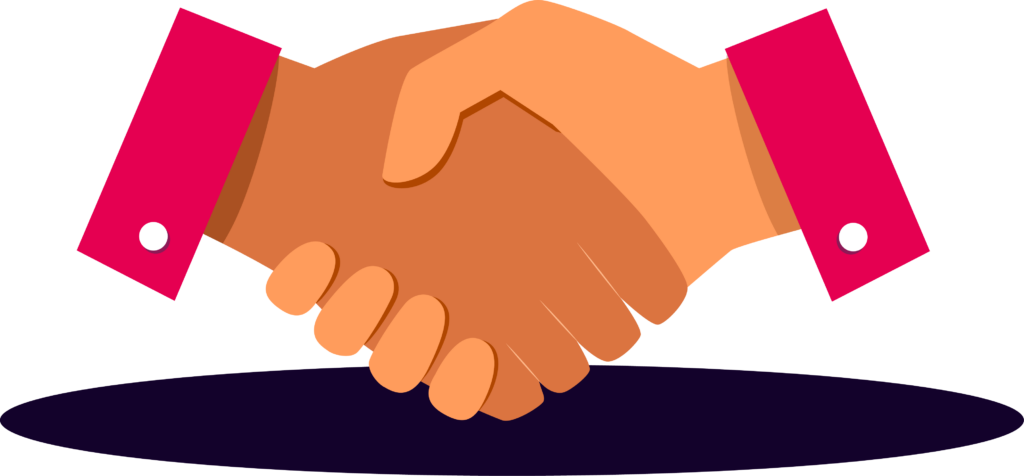 The scheme benefits students because it introduces them to rare disease early on in their career and helps them to understand the patient experience. They will learn a first-hand account of what it's like to live with a rare disease in the hopes that they walk away with a new perspective on rare disease care, policy, research and treatment.
Students who would liked to be paired with a rare disease patient group have until 9 November to apply. In order to respect the time and energy of the patient group advocate, it is expected that all paired students who have had a conversation with an advocate will subsequently write an essay. Please take this into consideration when applying to the pairing scheme. For more information, please visit the SVP website.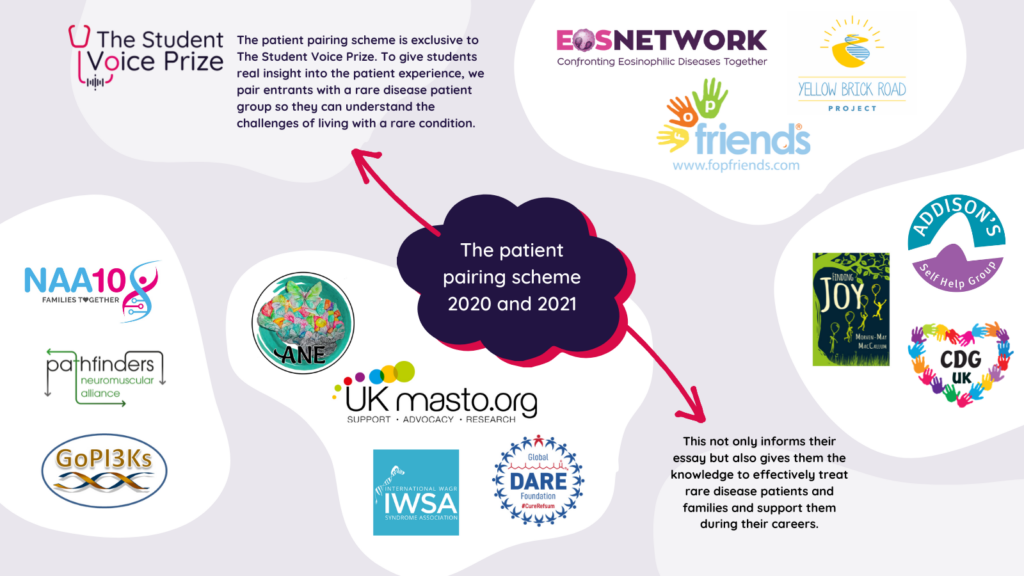 Help us to promote the competition
Please promote this international essay competition by following @RDstudentvoice on Twitter and rdstudentvoice on Instagram to like and share our social media posts far and wide!
The 2022 Student Voice Prize essay competition closes on 16 November!