Say hello to our newest team member!!
Eleanor Churchill has joined us in the newly created role of Digital Projects Officer. We are so excited to welcome her to the M4RD team and she will be working on all things digital, including M4RD Learn and The Rare Disease Podcast 4 Medics!
Eleanor will also be responsible for developing our YouTube channel, including the addition of content from our popular Mystery Monday
About Eleanor
Eleanor has an extensive background working as a Digital Content Producer for Hull UK City of Culture 2017, the BBC and The British Council. In this time she has worked on projects such as The Turner Prize, the installation project 'Look Up', and the launch of the CBeebies app Get Creative.
For the last few years she has been working on her own macrame business where she sells macrame wall hangings, instrument hangers and craft supplies via her website and on Etsy.
Eleanor is training in counselling and aside from these interests, is also a drummer in a band from Manchester who regularly enjoys gigging, getting fit and spending quality time with her cats.
You can contact Eleanor on eleanor@m4rd.org and her normal working days will be from 9am-5pm, Monday to Friday.
The Rare Disease Podcast 4 Medics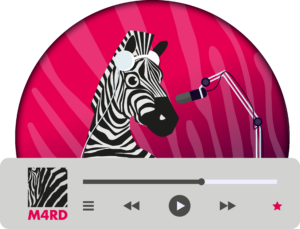 Each week we bring you interviews with people from across the rare disease and medical world, looking at different experiences and perspectives while providing pragmatic tips and advice for healthcare professionals.
If you would like to take part in a podcast, please email Eleanor.