We may have all heard the phrase "save a life, give blood", but what we may not have heard about is the cultural disparity that exists in blood and organ donation. To understand the depth of this issue, I got the chance to watch a screening of Action on Blood's film, 'A Living Legacy', at the House of Commons. This displayed a compelling message about the urgent need to receive more blood and organ donations from minority communities.

Bell Ribeiro-Addy, Labour MP for Streatham, prefaced the film by stressing that encouraging BAME communities to donate is unfortunately not enough. While cultural beliefs can play a part, we must also understand that institutional racism creates barriers to donation.

As an example, black people are often turned away from giving blood because they have low
iron. Therefore it is vital not to blame the communities who donate less frequently, but to tackle
the systemic obstacles to donation.

Who is Action on Blood?

Action on Blood is a membership organisation of voluntary blood and organ donors from
across the world. They are committed to encouraging donations from different communities, so
that no country or ethnic group is left behind in having access to blood and organ supplies. Take
a look at Action on Blood's website here.

What is 'A Living Legacy' about?

'A Living Legacy' follows the story of two families. We're first introduced to a young boy
called Tobi, who is running in the park with friends when he has a sickle cell crisis – a period of
excruciating pain. In a heart-breaking scene we see his mother learn that he developed kidney
failure and needs an organ donor. "What are the chances of finding a match?" she asks the
doctor with despair, "Everyone knows that black people don't donate." We meet another family
who realises they never had the conversation with their late father about organ donation. The
paths of these two families come to cross in miraculous ways.

Producer Abiola Okubanjo's authentic story highlights the need to build trust in organ
donation in both a touching and often humorous way. We even see appearances from two
Nollywood celebrities, actor Jude Chukwuka and comedian Mark Angel.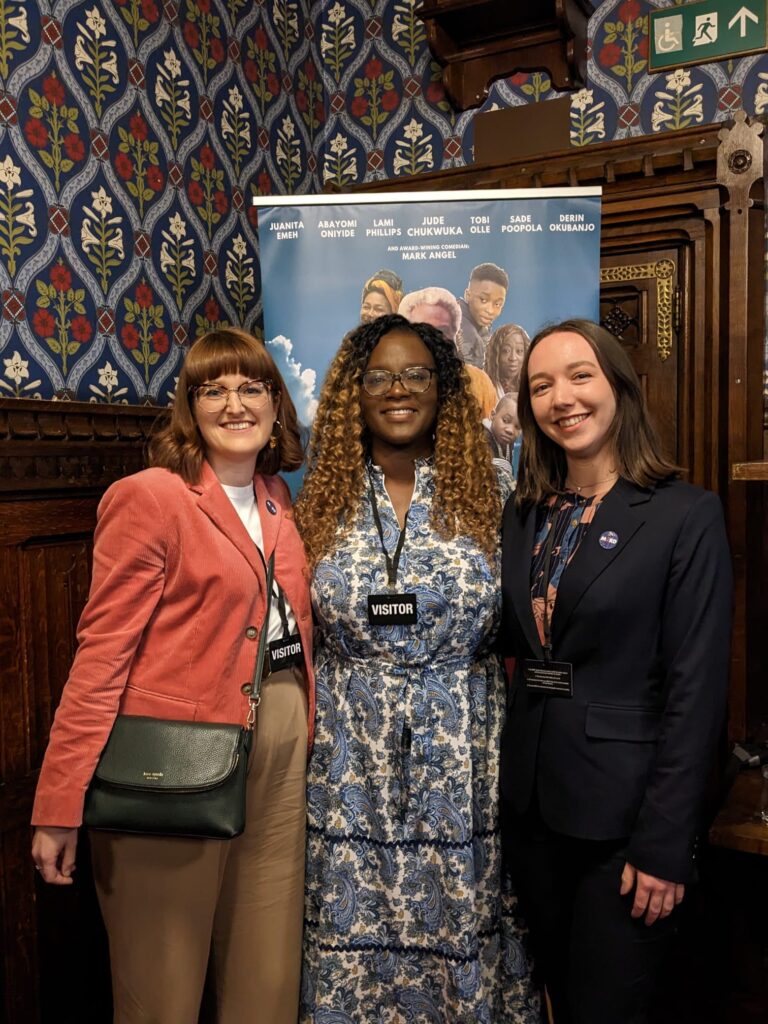 Post-screening talks

Dela Idowu, founder of Gift of Living Donation, emphasised that black people do donate,
contrary to the mother's beliefs in the film. In fact, as a powerful demonstration of this, five
people in the room stood up and told us they had donated an organ to a brother, wife, son or
daughter. Leah Brooksbank, an ambassador for M4RD, agreed that "it was inspiring to hear
personal stories from people in the audience, and there was so much energy in the room about
what could be achieved in the future."
However, more donors are needed. In 2022, Dela tells us that there were only 25 black
donors, compared to over 800 white donors. Put simply, a person's best donor match often
shares their ethnicity. Blood transfusions are used to treat sickle cell disease, which is more
prevalent in black people, highlighting the high demand for donations from black communities.

What can I do to help?

If you want to donate, click the link here.

Also, if you lead an organisation with a predominantly Black membership, you can host
your own screening of 'A Living Legacy' by emailing engage@actiononblood.org. After the
screening, you could even hold a blood drive by organising to donate as a group on a particular
day, and encouraging others to join.

Finally, although NHS Blood & Transplant paid to screen the film in the Houses of
Parliament, the actors all volunteered their time. Action on Blood need sponsors to continue to
spread their vital message, so if you know anyone who could do this, email Abiola at
abiolaokubanjo@actiononblood.org

Takeaways

We must have equity in blood donation, so that no one is left behind. We must also have
conversations with our families about organ donation – conversations which could save the lives
of the other Tobi's in the world.

I encourage you to watch or host a screening of 'A Living Legacy' if you can, and to
support Action on Blood's work. But most importantly, donate!