Who are Unique?
In the world of rare genetic conditions, understanding the intricacies of a specific disorder and accessing comprehensive information can be a daunting task for families and healthcare professionals. Fortunately, the organisation known as Unique serves as a beacon of hope, offering a wealth of invaluable resources to support individuals and enable them to navigate the complexities of rare chromosomal conditions, and more recently, single gene conditions as well.
This blog post delves into the treasure trove of knowledge and support that this remarkable organisation and their website provides.
Comprehensive Information
Unique, which can be accessed at www.rarechromo.org serves as a comprehensive repository of information on rare chromosomal, copy number variants and single gene disorders. The website offers an extensive database of more than 700 rare chromosomal conditions, each with detailed descriptions, medical summaries and information guides in several different languages. Families and healthcare professionals can access up-to-date, reliable information about these conditions, empowering them with a deeper understanding of the condition at hand.
Chromosome Information Guides and Genotype Database
The website hosts an exceptional collection of visual and information resources through their Chromosome Information Guides. This invaluable tool allows users to explore high-quality images of chromosomes, karyotypes, and microarray results associated with various rare chromosomal conditions and the impacts on behaviour, schooling, sleep and more. These aids may also assist healthcare professionals not only in evaluating these conditions accurately but also serve as a valuable tool in discussion with families. Unique also hosts a comprehensive offline genotype database, which was created in 1996 and which documents the lifetime histories of more than 27,000 members of all ages affected by rare chromosome disorders, rare copy number variants or rare single gene disorders. Unique can provide anonymised phenotypic descriptions to professionals working within rare disease.
Family Stories and Support
Rare chromosomal conditions can present numerous challenges, both emotional and practical, for families. Unique offers a platform where families can share their personal stories and experiences, providing a sense of connection and solidarity. These heartfelt narratives not only create a supportive community but also offer valuable insights into the realities of living with a rare chromosomal condition.
Specialist Guidance
Accessing expert advice and guidance can significantly impact the care and support received by individuals with rare chromosomal conditions. Unique collaborates with a diverse network of medical professionals and specialists who contribute their expertise to the website. Families and healthcare professionals can seek answers to their queries, gain specialist insights, and obtain second opinions, ensuring the best possible care for individuals with rare chromosomal and single gene conditions.
Research and Publications
The website actively promotes research and collates a vast array of scientific publications related to rare chromosomal conditions. This compilation of research papers, case studies, and clinical guidelines serves as a valuable resource for healthcare professionals, enabling them to stay updated with the latest advancements in the field.
To conclude, Unique stands as an extraordinary resource that empowers families and healthcare professionals dealing with rare chromosomal and single gene disorders. Through its comprehensive information, visual aids, guidance booklet and leaflets, support community, specialist guidance, and research compilation, the website provides an invaluable platform for knowledge-sharing and collaboration. In an often challenging journey, Unique brings hope, understanding, and a sense of unity to those affected by rare chromosomal and single gene conditions.
Did you know that the 22nd of June is Rare Chromosome & Gene Disorder Awareness Day?
This is a chance to educate those who have not heard of rare chromosome and gene disorders, but most importantly, to celebrate every person living with this unique disorder and their achievements.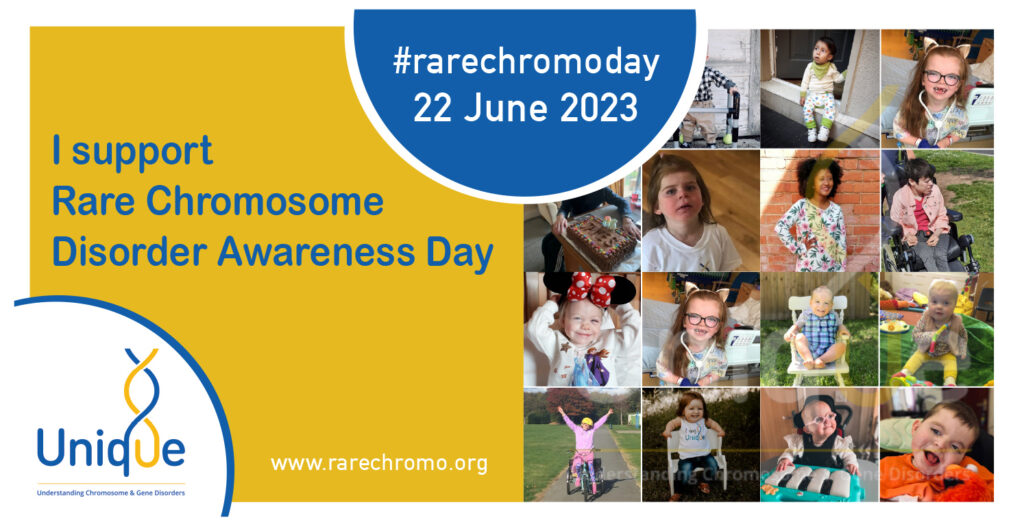 What can I do during the month of June in the lead up to #rarechromoday?
Unique is asking you to take on a special challenge this June and use the theme 23 for 23!
You could push a wheelchair a mile a day for 23 days, turn the TV off for an hour a day for 23 days, run a mile a day, stay silent for 23 minutes a day, whatever you're able to do. Ask people to sponsor you and when they do, tell them about Unique and rare chromosome disorders.
If you'd like to take part in a specific challenge in June, just email Unique at info@rarechromo.org with the subject Unique23
Need a few ideas for the 22nd of June?
or
Whatever you choose, the most important thing you can do is tell people! If you're on social media, use the hashtag #rarechromoday, share Unique's Instagram or Facebook posts and re-tweet their tweets.
Ready to get involved?
M4RD will be wearing yellow on 22nd of June to raise awareness, why not join us? Celebrate all those living with rare chromosome & single gene disorders and in educating everyone about what these conditions are. By Informing as many people as possible we can make life better for those affected, with improved care, treatment and outcomes.

For more information on how YOU can get involved visit: https://rarechromo.org/rarechromoday/